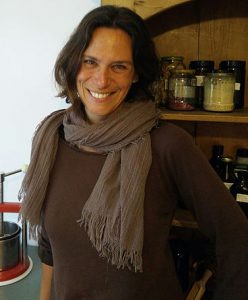 I am a Medical Herbalist and give consultations at The Dorchester Yoga and Therapy Centre, as well as in Axminster, and in Bridport where I live.
Herbalists use plants or plant extracts as medicine to get to the root cause of people's ill health as well as alleviate symptoms. Herbalism is both ancient and modern as traditional usage, tried and tested over centuries, merges with scientific research that gives new explanations for how herbs work.
I have a background in organic gardening, and came to herbalism through a love of plants.
All my life I have loved the fact that plants can be used for healing, and got to know them through planting and growing them, or foraging in the wild, and then using them for my own health. As I lived a very outdoor, physical life, herbs for healing cuts and bruises were my first discoveries! But for me herbal medicine really came into its own after the birth of my first daughter.  As other young mothers I knew struggled with health concerns common to new mothers and babies, I felt herbs supported my family through it all, preventing many problems from arising, and enabling us to deal with them quickly if they did. I realised how powerful herbal medicine could be, while also being very gentle.
This inspired me to undergo a formal course of study, and after 5 years of training I gained a first class BSc (Hons) in Herbal Medicine.
Since then I have seen herbs have many wonderful effects, on a wide range of health problems – digestive, emotional, muscle and bone, circulatory, skin, respiratory, hormonal – and for both chronic and short-lived conditions. Sometimes the benefits are dramatic and almost immediate, other times it can be a slower journey.
There are hundreds of herbs that can be used medicinally; a herbalist's skill is in finding the right herbs for each individual to enable their recovery of health.
I am happy to work alongside other health professionals, using herbs to support other treatments that may also be necessary.