Hello and welcome to our September newsletter.
I am so pleased that there is a September newsletter and that we have opened our doors again to our students and clients. Many of our teachers and therapists have been busy behind the scenes teaching online and I am sure many of you have enjoyed that lifeline of yoga in your own homes, or someone to help on a screen or phone.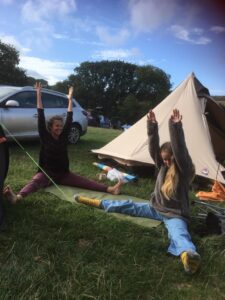 Thank you to all my students for their enthusiasm and committed online practice with me through lockdown which has enabled me to pay the bills and keep the centre going, thank you so much!
It feels great to be back! And of course things may change so we've all got our fingers crossed, our safety procedures in place (more on them below), and recommend that you check the calendar before coming.
I would like to welcome Sam Stevens to the centre, a recently qualified BWY teacher and  regular and enthusiastic participant of many classes here, Sam is offering a Beginners class Tuesdays 6.00-7.25pm.
With best wishes from Sharon and all the teachers and therapists at Dorchester Yoga and Therapy Centre
---
How we are working with Covid-19
We have a new way of working at the yoga centre. Our timetable looks slightly different, and we all need to be a bit more organised. This feels bureaucratic we know, and ask you to bear with us in order to minimise risk, optimise health, maximise love, and keep everything calm.
Here is what we are doing
Arranged the timetable to leave time between classes to allow for airing and cleaning, and to avoid crowding on the stairs and in the cloakroom
We have measured out the spaces between mats and taped the floor, so that you can put your mats within the taped areas
Restricting class sizes to keep the distance between mats safe
Requiring pre-booking for all classes so that we all fit in and know who is coming
Sadly we will ask people who have not pre-booked to leave – sorry but it's got to happen
Here is what we need you to do
Please do not come if you feel unwell….of course!
Please pre-book and pay for your classes – we cannot accept walk-ins, sorry
Wear a mask in all common areas of the building
Use the hand sanitiser when entering the building
You can remove your mask when on your yoga mat or in the therapy room
Do not come early as we don't want people waiting around in the building
Bring your own equipment; we can't share the centre's. There are mats and blocks to available to buy if you don't have any
Therapies
We have opened one of our therapy rooms, the large one with the window. Many of our therapists are back and offering their services again. See what is on offer here:
If you can't come to the studio
We understand absolutely. And we also recommend that you practise yoga and/or other disciplines, particularly in these extraordinary and stressful times. Please look after yourselves; however you do it.
We have a good selection of classes online, please check out this link:
You are welcome to ring or email if you need more help and advice on choosing a class.
---
Classes, Courses and Workshops: September
Breathing and Yoga Nidra with Sharon Cox-Button
Friday 4th, 6:30 – 7:30pm
Yoga Sutras of Patanjali with Sarah Ryan
Saturday 5th, 10:45am – 12:15pm
6 Week Baby Massage Course with Sharon Cox-Button
Thursday 17th, 12:45 – 2:00pm
Jivamukti XL with Leanne Jones
Friday 18th, 7:00 – 9:00pm
Gong Sound Bath with Arianna Puran Udini
Saturday 19th, 10:00 – 11:30am
Saturday Soundbath Meditation with Bex Leonard
Saturday 26th, 2:30 – 3:45pm
Yin Yoga with Chrissie Haskett
Sunday 27th, 10:30am – 1:00pm
---
October incoming
Restorative Yoga and Yoga Nidra with Sharon Cox-Button
Sunday 4th, 1:30 – 4:00pm