June has been a busy month at the yoga centre!
We had an amazing three day seminar with Dr Kausthub Desikachar on cakras.
It was very powerful and a deeply insightful way of looking at health from a non Western medical point of view. Those of us who took part were powerfully and deeply affected by it.
We are delighted that Kausthub will be back in September with a weekend workshop on The Yoga of Healing. Read the details of the Yoga for Healing workshop here.
---
We had a wonderful International Yoga Day on June 21st, when we offered free classes morning and evening.
All the classes had a sense of calmness, they were nourishing and gentle, from the peace chanting at the beginning, to the gong bath at the end, whether it was asana, breath work or relaxation, maybe a reflection of the times we find ourselves in, but everyone seemed to float home lighter!
Thank you to all the teachers who offered their teaching for free, thank you to the students who came and supported us. 
The seminar and the yoga day together raised £217.50  for four different  charities: The Horse Course, The Freedom Programme, The Refugee Council and The Network for Animals. Thank you to all who donated. It was especially lovely for the teachers to enjoy one another's classes, which we don't really get the chance to do.
---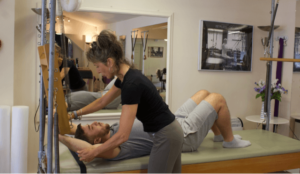 We are also very excited to announce the addition of a Classical Pilates Studio which is being adapted in one of our therapy rooms.
Nikki Oakley will be joining us from August with her studio apparatus. More on that below.
---
SO… Phew! … Deep breath…
Enjoy the beach, the beautiful countryside, gardens, friendships, appreciate life!
1.33 of Patanjali's Yoga Sutras reminds us:
Develop friendliness (maitri) towards those who are happy, compassion (karuna) to those who are suffering, appreciation (mudita) of those who do good, and non-judgementalism (upeksanam) towards those engaged in ignoble actions… and then the mind will find tranquility (prasadanam).
We hope your yoga classes continue to feed you through the Summer months and the newsletter will be back in September with all the Autumn news.
As ever, the details are below and in the calendar – please check it!
With best wishes from Sharon and all the teachers and therapists at Dorchester Yoga and Therapy Centre
---
Pilates Studio comes to DYTC
Nikki Oakley will be joining us from August with her studio apparatus. The studio apparatus is based on Joseph Pilates original designs, with each piece having its own speciality for every body-type. The apparatus uses springs of varying degrees of tension and resistance, helping to strengthen and lengthen muscles, develop the "powerhouse" (the deepest core muscles), joint stability and overall flexibility.
Each session is personalised to suit the needs of the individual and the reasons for coming to the studio are varied; some people come to manage injuries, for others it is their first time participating in any kind of exercise programme, and for some, who are already athletes, it's an opportunity to really improve and develop further.
Nikki Oakley, the owner of Pilates Re.Form has been teaching and practising Pilates in and around London for the past 25 years. In 2013 she opened her own studio in
Hertfordshire and then in July 2021, spurred on by the Covid Pandemic, Nikki and her family fulfilled their lifelong dream of selling-up and moving to Dorset.
Nikki is offering FREE 1:1 taster session to DYTC students
For further information and to book your FREE taster session, please
---
Two new classes for July
Breathe Deeply with Al Beale
Beginners Yoga with Natasha Hope
---
Classes, Courses and Workshops: July
Breathing and Yoga Nidra with Sharon Cox-Button
Rajadhiraja Yoga with Jez Culley
Yoga Sutras of Patanjali with Sarah Ryan
Reiki Share with Wrio Russell
Saturday Soundbath with Bex Leonard
---
"Wear gratitude like a cloak
and it will feed every corner of your life"
~ Rumi ~