My word, what a busy month we have had, filling those long days of sunlight, (well light unfortunately no sun!)  June 21st was International Yoga Day and we had a wonderful night on Friday with free classes from 5:15 – 9:30pm. Thank you to all the teachers for offering their time freely and making such a wonderful event, and thank you to all of you who came along and for donating to the The Bus Shelter Dorset who supports those sleeping rough. We raised just over £250!
On Satuday we ran the Holistic Zone at Dorset Fest, with Jane Collison offering aromatherpy hand massage, kinesiology and healing, Rebecca Shalts offering reflexology and Eli Button offering Thai Yoga Massage, plus yoga classes throughout the day. The sun shone and a good time was had by all. Thank you to all those who came along.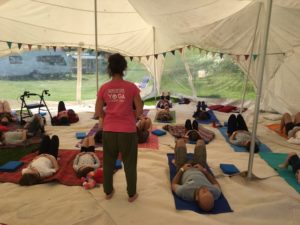 We would like to introduce our nutritionist Helen to you this month (below), and in our autumn newsletters we will introduce some more of our newer therapists who have recently joined us.
We have a few more workshops in July and then things will quieten down for August. Regular classes are still on but do keep an eye on the calendar in case your teacher  takes some time off for a break.
As usual there will be no newsletter in August but will resume again in September. Enjoy being outdoors, eat good food, relax and enjoy time with friends, all good things to feed the soul.
As ever, the details are below and in the calendar – please check it!
With best wishes from Sharon and all the teachers and therapists at Dorchester Yoga and Therapy Centre