Click on a teacher's name to find out more.
Our weekly teachers:
Fortnightly/ Monthly teachers, workshops and courses leaders:
---
WEEKLY TEACHERS
---
Sharon Cox-Button
Sharon Cox-Button is the owner of The Dorchester Yoga and Therapy Centre.
In 2001 she consolidated her 20 years of personal yoga practice and qualified as a teacher with the British Wheel of Yoga (BWY). A lot of her work has been influenced by, and coincided with the raising of her three children. She developed an interest in both pregnancy and post-natal yoga, helping women (and partners) to look after their bodies and minds throughout pregnancy and into family life.
She has run a pregnancy yoga class in Dorchester since 2001, and teaches baby massage and mother and baby yoga. She also teaches well-established beginners (gentle) and intermediate classes for men and women. She has practiced different styles of yoga, and been inspired by many teachers, although the Iyengar system has influenced her personal practice the most. This style has an emphasis on detail, precision and alignment in asana, pranayama and relaxation. This way of working complements and draws upon her experience as a massage practitioner of 20 years. She also offers specialized one to one yoga sessions for individual needs.
She is currently the British Wheel of Yoga Deputy Representative for Dorset, and is also really enjoying working with Duncan Hulin and studying with The Devon School of Yoga on a Postgraduate Teaching and Therapy Course. She is excited to be the owner of Dorchester Yoga and Therapy Centre, with a firm belief that yoga is for everyone.
Mobile: 07742821937
Landline: 01305 266839
Take me to the top of the page
---
Arianna Moretti
Arianna Moretti (Puran Udini Kaur) started Yoga at an early age, and went on to practise
Hatha Yoga in her teens and twenties. She went to her first Kundalini class 'because it was on at a convenient time' in 2001 and was immediately struck by the benefits to her posture, her breathing and her emotions. She trained with Karam Kriya School, attaining Level 1 in 2008 and Level 2 in 2014. In addition she has also trained in Mastering the Addictive Personality. She loves sharing the technology of Kundalini Yoga and seeing the many benefits it brings people.
Take me to the top of the page
---
Chrissie Haskett
Chrissie qualified as a yoga teacher in 2014 with Sivananda after more than thirty years of attending classes, retreats and personal practise. More recently she completed further teacher training in Yin Yoga with Sarah Lo and has also assisted Sarah on a training course.
Chrissie trained in Shiatsu in the 1980's and had a private practice in the Dorchester area for many years. She is also a Reiki teacher and loves passing this simple healing method on to others. Meditation and stillness are an important part of Chrissie's daily life and form the foundation of her classes. Chrissie is very excited by Yin Yoga with its long held floor based postures which are designed to revive and invigorate the subtle energy or Chi, whilst simultaneously softening and creating space in the body. Mindful awareness of the breath, the emotions and any arising sensations in the body is encouraged throughout the class to slow down mental activity and to provide a time for quiet inward focus and stillness.
Take me to the top of the page
---
Isabelle Taylor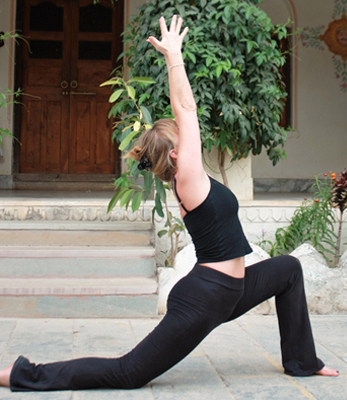 Isabelle has been practising Yoga for the past twenty-five years and has been teaching since 2003. Her teacher training was initially with Godfrey Devereux and then with Jenny Beeken of the Inner Yoga Trust.She holds teaching diplomas with the British Wheel of Yoga, Windfire Yoga and the Independent Yoga Network. She is trained in Yoga Therapy with the Devon School of Yoga & has completed the British Wheel of Yoga Meditation Module. Isabelle is also a BWY Foundation Course tutor.
Her style of teaching includes dynamic sequences as well as held postures and breath awareness. This all within a flowing structure that encourages students to focus internally bringing a deep sense of completeness and relaxation. Isabelle's teaching combines the precision of Iyengar with the flow and breath awareness of Ashtanga.
Take me to the top of the page
---
Jazmin Velasco
T'ai chi chuan: Jazmin started learning t'ai chi chuan, wing chun and kali in 1993 with Robert Kwok in Mexico city. When moving to London resumed her practice of external martial arts at the Bob Breen Academy, and currently she is a brown belt in Jeet Kune Do, a martial art that includes boxing, grappling, stick fighting and a number of other disciplines.Her practice of T'ai Chi Chuan continued with Paul Brecher and Dr. Mark Green under whose guidance she became a teacher of T'ai Chi, Chi Kung and meditation.
Take me to the top of the page
---
Jez Culley
Jez has been practising yoga for the past nineteen years and is passionate about sharing the benefits she has seen with others. Her personal practice has not only improved her physical health and fitness but additionally she has found benefit from the balancing effects on her mental and emotional wellbeing. She has deepened her spiritual knowledge through continued practice, study and training with the Himalayan Yoga Institute and enjoys taking part in kirtan, Kaoshikii dancing and chanting & meditation using Vedic mantras.
Jez takes a holistic approach to yoga and incorporates asanas, breathing techniques, meditation, mindfulness and colour therapy techniques as appropriate. She is fully qualified to teach Raja Dhiraja yoga (yoga of the king of kings) having spent a month training in an ashram in the Himalayas. Raja Dhiraja yoga was first developed over 2000 years ago and is the most complete and all round systematic process for the development of body, mind and soul. Time is always given for deep relaxation for assimilation of the results of the physical asana practice and to rejuvenate and revive oneself. 'Raja' means 'royal', implying that the yogi never feels subjugated by anyone.
Take me to the top of the page
---
Kim Jones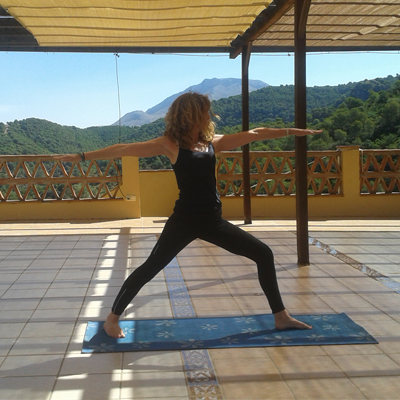 Kim has been practicing yoga for 17 years and qualified with Yoga Alliance in 2002 at Yoga Arts, Byron Bay, Australia then further training at Frog Lotus Yoga in the U.S.A. Whilst working as a post natal doula/maternity nurse and having her son Kim qualified with Birthlight in baby yoga and the British Wheel of Yoga pregnancy yoga module.Kim is also a Natal Hypnotherapy practioner offering 1-1 and group workshops. In addition to teaching pregnancy yoga here at the centre Kim will be offering restorative yoga and yoga for runners workshops.
Take me to the top of the page
---
Kim Mackie
Kim studied with Yogashiromani Acharya Lalit Kumar at the Himalaya Yoga Valley Centre completing her RYS200  Yoga Teacher Training in Goa, India accredited by Yoga Alliance. She has also completed a course in teaching yoga to children with Susannah Hoffman at Triyoga, also accredited by Yoga Alliance.
Kim originally trained in classical ballet and had a 10 year career as a professional dancer but was introduced to yoga whilst still training and knew that yoga was a path she would eventually follow.Kim teaches an Ashtanga flow yoga which beautifully synchronises Breath, Body and Mind.
Take me to the top of the page
---
Marj Snape
Marj has been practising Yoga for 30 years and teaching in the Dorchester and Weymouth areas for over 15 years.  She holds the British Wheel of Yoga Diploma and teaches Hatha Yoga in a meditative style with a combination of posture work, breathing, and relaxation. Marj believes that Yoga is accessible to people of all  ages and has taught Yoga to 3 year olds and 90 year olds. In the past she has specialised in teaching Yoga to Children and  Adults with Learning Difficulties. She now focuses on teaching meditation and the benefits of turning within to find peace and wholeness.
Marj trained with Derek Thorne and is a prominent member of the YogaLiving Community. She teaches meditation and Yoga in the Advaita Vedanta tradition .  This is an ancient and authentic wisdom teaching which directs us to the oneness and truth underlying this whole experience. Marj runs a beginners meditation course "Exploring Stillness" at Dorchester Yoga and Therapy Centre and offers an Early Morning Meditation session on Wednesdays. Marj's  personal meditation practice is Self Enquiry  ( Atma Vichara). She offers Retreats and Days of Yoga and Meditation at Hilfield Friary.
Take me to the top of the page
---
Sandy Tubby
My yoga journey began because I wanted to improve my surfing and it seemed quite a few
surfers benefitted from yoga! As a physiotherapist I found a natural interest in the physical practice and the breathing (pranayama) practices. After several years of Ashtanga yoga I also started more gentle yoga practices and suddenly found my body and mind changing in many ways. I decided to enrol on the BWY (British Wheel of Yoga) Foundation. During the 6 months of this course I began to feel and understand the more subtle changes that yoga can bring, particularly a calming of my 'monkey' mind.
I completed the 3 year BWY teacher training programme in December 2015. During the second 2 years of the programme I was teaching regularly at Shambala Studios in Leigh-on-Sea and also to international athletes as a form of recovery and for balance in their very strong, full time training schedules. My understanding of yoga comes from learning about my own practice which has introduced an esoteric/psychological aspect to my scientific physiotherapy mind. I am enjoying looking at the growing amount of scientific studies that are now beginning to show the benefits of yoga practice – there is plenty more to learn.
Take me to the top of the page
---
Sophie Russell
Sophie Russell is a personal trainer and fitness instructor who has taught a wide variety of classes
 since qualifying in 2004 and currently holds a Diploma in Stott Pilates.  Her Pilates journey began in 2006 as the perfect complement to all the running, jumping, cycling & weights work she also loves. She discovered the power of Pilates lay in working from the inside out to help re-connect mind with muscle in a bid to correct postural imbalances, strengthen areas of weakness and lengthen tight spots.
Sophie's classes are informative, specific and fun.  She focuses on ensuring everyone has a strong grasp of the essential foundation of Pilates practice and then layers modifications and progressions according to each individual's body and ability.  Whether you have been practising for years and know your swan dive from your double leg stretch, are a novice who is simply curious to give it a try or have a particular niggle you wish to address, Pilates can offer a gentle way of tuning back into your body's needs.
Take me to the top of the page
---
Toni Franklin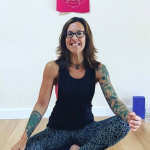 Yoga has been a part of my life for many years, and my practice has helped me grow stronger, more flexible and fearless, both on and off the mat. Yoga inspires me to live each moment more mindfully.
I have just completed my diploma with the  British Wheel of Yoga and continue to attend many yoga retreats, classes and workshops to further deepen my practice and stay plugged into the wonderful world of yoga.
I will always be a student of the practice and am deeply grateful for the loving wisdom my teachers have shared with me.
In my classes, I love to combine creative sequencing, a spirit of playfulness and a dose of inspiration to help you deepen your practice. I seek to help others thrive in life by nurturing the body, mind and soul with yoga, and my hope is that you step off the mat feeling refreshed, nourished and balanced.
Take me to the top of the page
---
Toni Roberts
In 2005 Toni qualified as a 200hr Barkan Method teacher, returning a year later to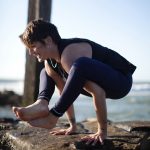 to become certified to teach Level II & III and Hot Vinyasa Flow. Since 2006 Toni has gone on to train in Classical Yoga for children and teenagers (The Special Yoga Centre), Pre and Postnatal Yoga (Classical Yoga with Jane MacKarness), Raja Yoga Meditation (Brahma Kumaris), Anatomy & Physiology, Yoga History, Philosophy & Ethics (Max Strom), Yoga Therapy for Mental Health Conditions (The Minded Institute), Heather Elton Yoga, Shoden & Okuden Reiki and is currently training with Mark Freeth of; The Freestyle Yoga Project.Toni has also received intensive instruction and training from many world renowned teachers including Manju Jois (Astanga Vinyasa), Ana Forest (Forest Yoga), and Sharon Gannon & David Life (Jivamukti).
This continued and diverse background of learning enables Toni to teach a variety of classes that range from the challenging and dynamic, to the mindful and restorative. T
Toni leads retreats, workshops and teacher training's in the UK and abroad as principal teacher trainer for yogahaven (2008 – 2017) and The Yoga Garden (2013 – ongoing). Her love of running inspirational, life-affirming retreats culminated in the launch of her company Lokya Retreats in 2016; bringing people together to reconnect in stunning, handpicked, natural landscapes.
Take me to the top of the page
---
Vikki Smisek
Vikki is a certified Qoya teacher having recently completed her teacher training with
Qoya.love. Vikki has been practising Qoya since 2017 and as Qoya continues to have such a transformational impact on her own life, she is becoming more and more passionate about sharing this unique practice with other women.
As well as being a regular student of yoga, Vikki has a background of working for almost 20 years as a psychotherapist and group facilitator and is also a qualified teacher of Mindfulness Based Approaches.
Take me to the top of the page
---
Fortnightly/Monthly teachers, workshop and courses leaders:
---
Jem Shackleford
 Jem has been practising meditation for many years and teaching mindfulness for over five. He has personal experience of the effectiveness of mindfulness practice in helping to alleviate stress and improve general wellbeing. Jem delivers a range of mindfulness courses to the general public both privately and in the NHS. His background in secondary schools and specialist training to teach Mindfulness in Schools Project .b programmes has enabled him to successfully deliver these programmes in schools to a range of students, and the adults who care for them.  He also trains teachers to deliver the .b programme themselves in schools. Jem is also a director of Inward Bound Mindfulness Education (UK) an organisation that runs mindfulness retreats for teens. Jem is registered with the UK Mindfulness-Based Teachers' Network.
Take me to the top of the page
---
Jess Obermaier
I began my yoga journey in January 2014 and instantly knew I had found "my thing" Like
many people I began a yoga practise to stay physically fit but soon began to realised there was a deeper meaning to the practise than just the physical body and within a few months I experienced a profound positive shift in my life.I have been teaching for two years and have a fun relaxed approach to my teaching. I have a keen interest in functional movement and mobility and like to add elements of this in my classes. My passion is for everyone to feel good in their body, to be able to move in a pain free way and I believe that yoga is a great tool to help you get there.In 2018 I gained my 300 hour British Wheel of Yoga Certificate and the following year 200 hour yoga Alliance Certificate based around the Ashtanga method.
---
Leanne Jones
Leanne is a 300hr certified Jivamukti yoga teacher and 500hr British Wheel of Yoga teacher. She found yoga at a tough time in her life and has realized that slowly but surely it was changing her life for the better.
She completed  the BWY Foundation course with Sarah Harris in Letchworth in 2011, and trained with Andrea Kwiatkowski for her 3 year BWY diploma, who introduced her to the wonderful method of Jivamukti. Consequently Leanne completed the Jivamukti training at Gaunts House, in Dorset in 2012 with her beloved teachers Sharon Gannon, David Life, Yogeswari & Patrick Broome. She had her first baby in 2014 and is enjoying exploring how her practice has changed since then.
Leanne is also a qualified Thai Yoga Massage therapist and completed her training with Ralf Marsden in 2015. Her classes are open to all levels. They will include some chanting, pranayama, yoga philosophy, vinyasa flowing sequences, massage, meditation and an inspiring playlist of music to practice to.
Take me to the top of the page
---
Sarah Ryan
Sarah has been fascinated by yoga since 1970. She worked with various teachers and became a teacher trainer for the British Wheel of Yoga before discovering the teachings of Krishnamacharya and his son TKV Desikachar in the '80s. Since then she has studied in that tradition, principally with Paul Harvey, TKV Desikachar himself, and his son Kausthub.She also teaches Vedic chanting, which helps deepen yoga practice and complements it. She loves going deeper into yoga's beautiful teachings, gradually understanding more. She continues to visit India regularly for different courses, and has also completed a 4-year Yoga Therapy Programme with the Krishnamacharya Yoga and Healing Foundation.
Take me to the top of the page
---
Sian Lalita Alcock
Sian has a BA in Yoga Studies, ERYT and RYT 500 with the Yoga Alliance and a Y3 or Yoga Elder with the Independent Yoga
Network. Sian has been travelling the Globe on her Yoga Journey for 30 years.  Her deep love of the Science, Art & Beauty of Yoga lead her to dedicate her life to its exploration. As a Yogic Nun she ran numerous educational projects to nurture well-being in communities around the World from America & Europe, India, Africa and the Far East, to South America and the Caribbean.  With a BA in Yoga Studies, Sian has trained with Ananda Marga and Rajadhiraja Schools as well as Synergy, Iyengar, Shivananda and, Ashtanga styles. As both a teacher and teacher-trainer, her travels have taken her far and wide from Africa to India, Central America, the Caribbean, the Far East, Europe and the USA.  Her unique experiences in life encompass many facets including Meditation, Healing, Life coaching, Singer/Songwriting & Dance and she is dedicated to helping people create the lives that they truly love.  Back in the UK she continues her work offering classes, workshops and retreats.
Take me to the top of the page
---
Sue Fisher
Somerset-based Sue has worked in healthcare – commercial and clinical – her entire professional life. With 2 young children she is well aware that from adventuring in the woods and play areas to being in the garden and at home, there are many potential dangers to your family.
Covering the town, country and remote areas of Somerset, Dorset & Wilts. Sue is passionate that the skills taught by Mini First Aid can, literally, be life saving.  One day they may even be essential for those crucial minutes before the Emergency Services can arrive.
Take me to the top of the page
---
Victoria Boast
Victoria first discovered her passion for yoga in 2010 after initially looking for ways to 
improve her flexibility to help with her dancing classes.
Victoria then moved to Shanghai in 2012 and with yoga studios on every street it was easy to develop her passion and she began to practice more intensively. At the start of 2015, she took part in the teacher training program at My Soul Yoga Studio in Shanghai and followed an intense but rewarding journey to the 200RYT certification accredited by Yoga Alliance. She is trained in Therapeutic yoga, Alignment and Vinyasa (TAV). Her classes focus on the principles of therapeutic alignment allowing students to deeply connect with themselves and become more self aware in their practice.