Please contact the workshop teacher for bookings and further information – their details are listed in the course information:
---
Acro Yoga
Chris Clayton-Jones from AcroYoga International has had the pleasure of running workshops, classes and jams in various places around the world. He specialises in a fun, safe practice which is accessible to anyone willing and able to take part. All ages are welcome.
The workshop will include:
Warm up sequence, preparatory handstand drills, introduction to basic Acro moves with emphasis on alignment and comfort to aide practice longevity, introduction to therapeutic flying.
Pre-requisites: you need to be healthy or without conditions that would preclude going upside down. This doesn't include nervousness or lack of experience!
Teacher: Chris Clayton-Jones
Date: next date to be announced
Time:2.00-5.00pm
Cost: £25.00
For bookings: please email Sharon
Take me to the top of the page
---
Gong Bath
The Gong is a sacred and ancient instrument which has been used for thousands of years for deep healing, rejuvenation and transformation.
Physically, the resonance produced releases tension and blocks in the body, stimulates the glandular system and helps balance the nervous system. Mentally, the sound of the Gong helps clean out the subconscious mind, rewriting old patterns, slows down brain waves, and aids in reaching Shuniya – a place of stillness within ourselves where we can access our innate wisdom.
Playing the Gong after Kundalini Yoga is especially beneficial as the body is even more receptive to the healing vibrations it carries. The whole cellular system can be regenerated at a very deep level which can be profoundly restorative, a perfect antidote to today's stressful lifestyles.
"The Gong is the first and last instrument for the human mind, there is only one thing that can supersede and command the human mind, the sound of the Gong. It is the first sound in the universe, the sound that created this universe. It's the basic creative sound. To the mind, the sound of the gong is like a mother and father that gave it birth. The mind has no power to resist a gong that is well played." Yogi Bhajan, Master of Kundalini Yoga
During the session, we will practise a simple Kriya to stretch, energise and prepare the body, followed by a meditation to clear and quieten the mind. There will be a short relaxation then the Gong will be played.
You should wear loose, comfortable clothing which is easy to move and stretch in, and bring water to drink. Mats and blankets will be supplied. Please note that Gong baths are not recommended during pregnancy.
Teacher: Puran Udini Kaur/Arianna  (see Teachers page)
Time: 11.30-1.15pm
Date: Saturday 23rd March 2019
Price: £12.00
Mobile: 07790 506 821
Take me to the top of the page
---
Kinesiology Course
LEARN SYSTEMATIC KINESIOLOGY IN BEAUTIFUL DORSET!
I offer the only Foundation Training course in Dorset accredited by the Association of Systematic Kinesiology. This course is for those who want to:
massively improve their own health
help family and friends with their health
go on to train to become professional Systematic Kinesiologists
add muscle-testing and other kinesiology techniques to their existing therapy work
have fun learning about natural health with like-minded people
Systematic Kinesiology (SK) is a truly holistic natural therapy which uses easy-to-learn, non-invasive techniques to bring about balance in all four areas of health: structure, biochemistry, emotions and energy. The origins of SK lie in chiropractic and in Chinese medicine but the Foundation course is open to those with no previous health knowledge.
Contact me for more information and to book your unique opportunity to change your health and your life in 2019!
**SPECIAL OFFER: BOOK AND PAY BEFORE END JANUARY 2019 – GET £100 OFF (£950 or £100 deposit* + 6 x £150)** 
Teacher: Jane Collison
Dates:  9-10 March. 6-7 April, 2019, 11-12 May, 8-9 June, 6-7 July, 27-28 July
Cost: £1,050 – includes: 90 hours of classroom teaching, access to online resources and support, text book, handouts, a magnet … tea, treats and more! Payment plan available: £200 deposit* then instalments of £150 per weekend (£1,100).
Email: janehcollison@gmail.com
Mobile: 07961184753
Take me to the top of the page
---
Mini First Aid
Mini First Aid Dorset and Somerset offers 2 hour baby & toddler first aid classes for small groups of parents and carers. Classes are informal, but informative and cover
Choking
Basic life support
dealing with burns, breaks and bumps
Febrile seizures
Meningitis awareness
For more information or to book onto a course please visit the Mini First Aid website
Teacher: Sue Fisher (see teachers page)
Date: to be announced
Time: 10.00-12.00pm
Cost: £20.00 per person
Mobile: 07890 400 461
Take me to the top of the page
---
Morning of Iyengar Yoga with Cheree Low
Improving Yoga Asanas through Awareness of Action and Alignment
A Junior Intermediate Level 3 certified Iyengar yoga teacher, Cheree has practised yoga since 2001. She began her studies in the United States, studying under Senior Iyengar teachers George PurvisMary Obendorfer and Eddy Marks. She continues her studies in England with Senior teacher Mary Heath. She has also had the pleasure of studying under Dr Geeta Iyengar at the Reflection Iyengar Yoga convention in 2010 and Abhijata Sridhar Iyengar at the IY(UK) Convention in 2014.
Cheree Low's teaching is characterised by her enthusiasm and humour, encouraging students to refine their practice to develop awareness and intelligence in the mind and body. Her classes are dynamic and precise, while sensitive to the needs of all students.
Cheree has Bachelors and Masters degrees in Music. In addition to her yoga practice, Cheree enjoys spending time with her husband Matt & daughter Evelene, teaching saxophone and reading science-fiction and fantasy.
Teacher: Cheree Low
Date: to be announced
Time: 10.00am – 1:00pm
Cost: £20.00
Mobile: 07742 821 937
Take me to the top of the page
---
Restorative Yoga and Yoga Nidra
Nuture yourself using Restorative Yoga and Yoga Nidra. Through passive and supported stretching using bolsters, blocks, chairs and blankets the body is given time to unwind, the breath to slow and the mind to become present. This will be followed by the practice of yoga nidra, a systematic method of inducing complete mental, emotional and physical relaxation with body scan and breath awareness. Suitable for all and particular if you are very tired, stressed or recovering from illness. This extended class will finish with tea and delicious cake from Feed the Soul.
Teacher: Sharon Cox-Button
Time: 1.30-4.00pm
Dates: Sundays 14th April
Cost: £28
Mobile: 07742 821 937
Take me to the top of the page
---
Sacred Connections – Yoga and Relationships
A Talk By Dr. Kausthub Desikachar
"Yoga is relationship"- Sri T.K.V. Desikachar
When we think about our life, we soon realize that its quality depends mainly on the quality of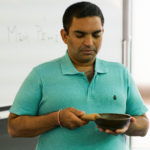 our relationships. All the relationships we share can be categorised into three fundamental sets – The relationship we have with our own self, the relationship we have with others and the environment, and the relationship we have with the Divine, or source consciousness.
Yoga philosophy teaches that in essence, these three relationships are all inter-connected and  sustain each other. The way we relate, value, see and treat ourselves determines how we relate, value, see and treat others and the environment around us. Similarly, the more we connect to our own higher self, the more we will feel guided by the source consciousness that connects us all. All projections that we play out in our daily life, from simple judgments of others to negative behavioural patterns that we repeat in relationships, mirror core beliefs and imprints that we have accumulated in our life or that have been transmitted through upbringing and ancestry.  Yoga calls these imprints Väsana-s (when they are subconscious / subliminal) or Smriti-s (when they become part of our memory). Yoga helps us not only to realize and understand these patterns and projections from a place of clarity, but also to clear energetic imprints that do not serve us on our path.
This talk is recommended for anyone who is on a spiritual path and who wants to form a better relationship with themselves, with others or the Divine. Dr. Kausthub Desikachar is the successor and current lineage holder of the classical Yoga tradition of T Krishnamacharya & TKV Desikachar. He is an acclaimed yoga teacher, yoga therapist, healer and spiritual adviser.  His objectives include the sharing of the authentic teachings of Yoga to the modern era, as well as building bridges between different healing modalities to promote physical, emotional social and spiritual health. As well as teaching, he works as a yoga therapist, offering clients astute and effective solutions for all sorts of physical, mental and emotional imbalances and problems.
Date: Tuesday 2nd April
Time 5.30-7.00pm
Cost: £25.00
Mobile: 07742 821 937
Take me to the top of the page
---
Shakti Dance
Awakening of your potentials
Awakening of your dreams
Awakening of Nature and Celebrate the coming of the spring!
After a break Shakti Dance – the yoga of dance, is back at the Dorchester Yoga Centre.
Do you love to feel energised yet calm and centred?
Do you love to feel free yet connected?
Do you love to be inspired yet creative?
Shakti Dance is the invitation to look inside and see how to become more creative in life, in our movements, thoughts, to be in tune with the desires of our souls. Let your body discover how good it feels to be fully awake and filled with this creative energy!
During the workshop we will explore the fluid and free yoga stretches, awakening the body for movement meditation, group dance, free dance, relaxation with yoga nidra and a meditation with a mantra and movement, called in Shakti community as Celestial Communication.
Magdalena Atkinson is a singer-songwriter, a shakti dance teacher, a mother, a dreamer… more info on www.magdalenaatkinson.co.uk
Booking essential, please let me know directly if you are planning to come, bring a friend and celebrate with us!
Teacher: Magdalena Atkinson
Dates: 16th March 2019
Time: 3:00 – 6:00pm
Cost: £25 (£20 concessions ask for details), £45 for two
Mobile:07796 656 869
Take me to the top of the page
---
Sound Space Meditation
Welcome to sound space meditation where you will be guided through  deep breathing with beautiful hand pan music to drift off and relax to,  as we work with the different elements of the earth.
You will experience the amazing chakra tubes that clean the energy points of the body and in each session we will work with different chakras to unblock any thoughts or energy in that area.
Sound journeys using gongs, tubes, rain sticks, drone flutes and  hand pans will take you off into another world,
I will do a guided mediation to trust and realise your voice and you will be invited to inner chant with me using sounds and vowels if you wish too.
Please wear loose clothing, bring  blankets and small pillows to make your self comfy,
Teacher: Chrissy Foster
Day: Wednesdays
Time: 12.30-2.00pm
Dates: 20th February, 20th March 2019
Cost: £12.00 or £10.00 concessions
Mobile: 07840 976 584
Take me to the top of the page
---
The Art Of Deep Self Care
Do You need some space, time, energy and nurturing?

This workshop aims to support you in exploring, creating and sustaining true well being in your life with Yoga, Life coaching, Healing, Music, Deep Relaxation and Meditation.
Teacher: Sian Lalita' Alcock
Dates: Saturday 23rd February, 6th April, 11th May, 8th June 2019
Time: 2.00-5.00pm
Cost: £30.00 (Concessions available on request)
Mobile: 07527 052273
Take me to the top of the page
---
Yoga and Introduction To Qigong
Yoga Teacher Lea Brindle aims is to explore the similarities and differences between Flow Yoga and Tai Chi Qigong. The workshop will begin with a mindful warm-up and yoga practice, and then look at some basic principles of Tai Chi Qigong. Then there will be a practice of some of the beginning sequences of the 18 movements (which comprise the complete Shibashi form). In particular he  will explore working with the breath to get optimum flow which can be used in either a Tai Chi or Yoga practice. It will finish with some more Yoga and a long, guided relaxation.This two and-a-half hour workshop is suitable for more experienced students although beginners will be welcome. All you need to bring is yourself, warm, comfortable clothing and an open mind!
Teacher: Yogi Lea
Date: Saturday 13th April
Time: 10.00-12.30pm
Cost: £20.00
Mobile: 07973 268836
Email: yogilea@gmail.com
Take me to the top of the page
---
Yoga and Sufi Dance
Designed to both refresh and energise, this Sufi-inspired Yoga Workshop uses especially composed music for a Sufi Dance/Movement sequence. We begin with a mindful warm-up and yoga practice and, after learning the Sufi Dance, finish with a long, guided relaxation. We will explore working with the chakras, notably Anahata, the seat of unconditional love, joy and compassion, and engage Sankalpa (our resolve, sowing the seed of change). This two and-a-half hour workshop is suitable for absolute beginners as well as more experienced students. All you need to bring is yourself, warm, comfortable clothing and an open mind!
Teacher: Yogi Lea
Date: Saturday 18th May
Time: 10.00-12.30pm
Cost: £20.00
Mobile: 07973 268836
Email: yogilea@gmail.com