Happy February to you all.
Although we are all waiting for the first signs of Spring, I thought I would share my lovely Amaryllis that I had for Xmas.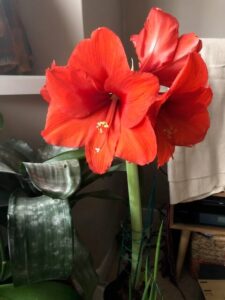 The yoga centre and therapy rooms are busy and there is an air of optimism for more normal times. It feels like we may be heading back to a more 'normal' way of life!
A yoga practice is a constant that keeps us calm through uncertain times.
If you haven't had that through the last few years and feel like it's time to start, please let us help you find a class or some one-to-one sessions.
January has always been a busy month for us, and it is always good to see everyone coming back with all those good intentions. We still have some classes with spaces.
Check whether a class is full or not by looking at the classes page on the website.
So many of our teachers and therapists are carers, nurses and/or parents, giving constantly to others. Despite all that, they still find time to teach and share their passions, saying that they get so much back from it.
Dorchester and the surrounding area is lucky to have such a great, committed team of people!
Looking to February we have an interesting array of workshops so make sure you find some time for yourself to enjoy some of them.
As ever, the details are below and in the calendar – please check it!
With best wishes from Sharon and all the teachers and therapists at Dorchester Yoga and Therapy Centre
We have a few changes to our timetable this month
The Qi Gong class with Tim Button has moved to 5:00 – 6:00pm on Tuesdays.
There is a new Intermediate Mat Work Pilates class on Tuesday evenings 7:45 – 8:45pm with Sharon Morgan. Her Mat Work Pilates classes on Tuesdays 8:00 – 9:00 am and 9:15 – 10:15am, and  Wednesdays 9:15 – 10.15am are also  resuming.
Chrissie Haskett took a short break to look after her elderly parents and is very keen to get back to her teaching. Her Yin Yoga classes are on Monday and Wednesday mornings at 10:30am – 12:00pm.
---
Classes, Courses and Workshops: February
Restorative Yoga for Deep Rest with Tracey Boast
Breathing and Yoga Nidra with Sharon Cox-Button
Gong Bath with Arianna Puran Udini
Pilates, Movement and Balance Masterclass with Sharon Morgan
Winter Yin Yoga Workshop with Chrissie Haskett
Mini First Aid with Sue Fisher
Indian Head Massage with Jayne Jame
RajaDhiraja Yoga with Jez Culley
Om Shanti Interactive Concert with Magdalena Atkinson
Yoga Sutras of Patanjali with Sarah Ryan
Couples Connection with Sixe
Restorative Yoga for Deep Rest with Tracey Boast
Restorative Yoga and Yoga Nidra with Sharon Cox-Button
Reiki Share with Karen and Wrio
Shakti Dance with Magdalena Atkinson
Have only love in your heart for others.
The more you see the good in them,
the more you will establish good in yourself.
~ Paramahansa Yogananda ~