Welcome to our April newsletter – from all us at the centre we would like to wish you a Happy Easter. Spring is a time of new growth and we are in the midst of having a new therapy room built. Apologies for any disturbances but it won't be long now!
Please can you help us by adding a google review? It should take 5 minutes max. We would really appreciate it. If you have the time and inclination, follow the steps in our short howto guide.
As ever, please check out the studio calendar and classes pages on the website for more details, and April's workshops and courses are below.
Best wishes from Sharon and all the teachers and therapists at the centre.
---
Therapist focus: Annabel Fox: Massage and Reiki
I have always been interested in Complementary therapy and as a child was blessed with two grandmothers who were both into natural healing.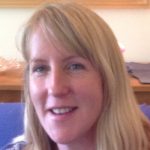 Long walks in the countryside, an interest in nature, good healthy home cooked food and homeopathy were among the principles I grew up with. I worked for many years in sales and marketing and learnt that city life and constant stress were not the path for me. It also taught me what stress does to the body and made me look at ways to overcome it.
Reiki
I spent 5 years in Australia in my 20's and found myself drawn to studying to be a Reiki teacher. Reiki level one was the most amazing experiences of my life and taught me first to give myself healing and understand my own psyche before offering healing to others. My teacher taught the traditional apprenticeship style of Reiki and my Masters/ Teachers took me 18 months to complete. Being a Reiki practitioner/Master/Teacher naturally led me onto training in massage as my Reiki teacher was also a gifted masseuse and combined the two so effectively it seemed the natural path for me.
Massage
I have trained in: Swedish Massage, Indian Head massage, Thai Yoga Massage and Natural Face lift. I tend to combine all the styles into my treatments depending on what my client needs : full body massage with oils, head and face massage, energy clearing, re-charging and balancing.
My Thai Yoga techniques teach me to use my body weight more than my muscles so I tend to get up on the couch from time to time and get above the area I need to work on!
I have been working as a Reiki/Massage practitioner and teacher for the past 17 years.  It never ceases to amaze me how Reiki/massage can bring us back to our natural state of wellbeing.
I like to keep my healing space very warm and believe that healing and warmth go hand in hand. I use heated towels throughout the massage to help the muscles integrate the healing they have received.
I encourage my clients to be quiet during their session and to bring their focus to their breath.   Breath is the life force and wherever we send breath we send life. In my experience, clients who breathe consciously during their treatments double the effects of their massage.
---
Courses and Workshops in April
Mindfulness Drop-in with Jem Shackleford
Thursday 6th 7:00 – 8.30pm
Breathing and Yoga Nidra with Sharon Cox-Button
Birth Workshop with Sharon Cox-Button
Saturday 8th 1:30 – 4:30pm
Silent Yoga with Leanne Jones and SHUSH events
Saturday 8th 5:00 – 6.30pm
Gong Bath with Arianna Moretti
Sound and Yin Yoga workshop with Dominique Preston and Kate Alpe
The centre will be closed from Good Friday to Easter Monday.
Homeopathy for Babies and Toddlers with Zofia Dymitr
Tuesday 18th 10:00 – 12.30pm
Pregnancy Circle and Relaxation with Kim Jones
Tuesday 18th 7:00 – 8:00pm
Six week Baby Massage course beginning
Thursday 20th 1:30 – 2.45pm
Past Life regression and meditation with Susan Phoenix
Sunday 23rd 10:00am – 1.00pm
'Moving into Stillness' Chakra workshop with Yogi Lea
Sunday 23rd 10:00 – 12:00pm
Reiki Share with Karen Giles
Friday 28th 6:15 – 7:45pm
Shakti Dance with Magdalena Atkinson
Friday 28th 7:30pm – 9:30pm
Spring Clean Your Digestive System with Yoga and Herbs with Sharon Cox-Button and Sarah Burt
Sunday 30th 10:00am – 4:00pm
Alignment Flow with Victoria Boast
Sunday 30th 10:00 – 11.30am